The TOELI Research Papers Series circulates research in progress on economic law and innovation.
We want to promote an open discussion for academics, technologists and policymakers, to monitor, review, analyse, and critically discuss regulatory, legislative and policy developments in the fields of technological and social innovation.
We host younger and senior researchers, as well as professionals and practitioners, who want to contribute to our discussion and advance knowledge in all the innovation-related areas of the law.
Series Coordinators: Riccardo de Caria, Silvia Martinelli, Cristina Poncibò
Editorial Assistant: Pietro Giovanni Bizzaro
Proposals for new research papers may be submitted to toeli@iuse.it
The publication is the sole responsibility of the authors. TOELI obtains a non-exclusive right to publish and distribute their work. By submitting their work, the authors guarantee that no third-party rights will be infringed through the publication.
---
Latest papers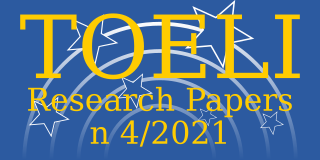 Carlo Rossi Chauvenet and Silvia Martinelli